This map shows the catchments for the five access point services in the north and west.  You can find the contact details for the access point services on the 'Getting help' page.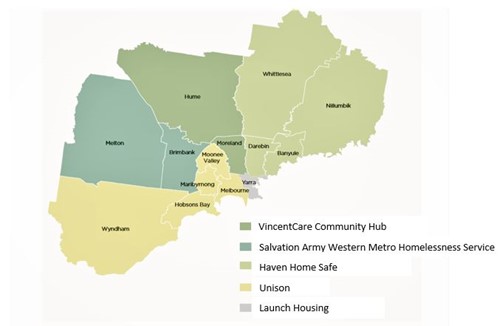 The role of the access point services is to provide:

Initial assessment and planning - undertaking general assessments (either in person or over the phone) of an individual or households' housing and support needs and level of personal vulnerability.

Support options are discussed with households and, where possible, immediate assistance of a limited nature is provided (such as purchase of emergency accommodation).
Prioritisation, best-matching and referral to the resources of the homelessness service system - maintaining prioritised lists of all households in need of further assistance from the local homelessness services. As accommodation or support becomes available, households are best-matched and referred to each vacancy.  
Unfortunately, more people present to the access point services than there are appointments available.   People generally contact an access point service as early as possible in the day in order to secure one of the available appointments.
The services will try to find emergency accommodation for those who have nowhere to stay that night. There are only 423 government funded emergency accommodation beds in Victoria so services will purchase accommodation from the private sector. 
Unfortunately, funds for emergency accommodation are very limited so If someone presents to an access point service who has nowhere to stay that night and there is no appointment available for them, then the reception staff may be able to purchase a night in local low cost private accommodation, if there is any available. The consumer then needs to return to the service the next day for a full appointment.

Services have insufficient funds to purchase emergency accommodation for everyone who needs it and the accommodation available is often not safe or appropriate to need. The Networks have been advocating to appropriate emergency accommodation for some time (see 'Crisis in Crisis')
The difference between the numbers of people presenting to access point services and the appointments available is so great that appointments, which should probably be up to two hours long, are generally no longer than 45 minutes.  In this time an Initial Assessment & Planning (IA&P) Worker works with the individual/household to identify what they need, provides information about options and works with the consumer on a short term plan.
If the individual/household would like further support (to find housing or to address anything that is impacting on their ability to maintain housing) or access to housing, their name is placed on a 'prioritisation list', awaiting referral to homelessness support services.