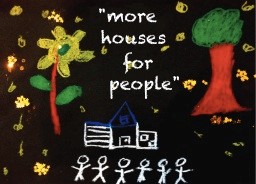 When the Northern and Western Networks asked consumers in September 2014, what we could do to improve the homelessness system, the response was that the system is largely working well but that we need more housing.

The Networks opted to work with consumers to advocate for more housing, by creating the "More houses for people campaign". The Northern and Western Homelessness Networks are proud to have worked with people experiencing homelessness in the design of this campaign.
The "More houses for people" campaign provides people who are homeless, and other interested members of the community, with the opportunity to write to the Premier of Victoria, and the Prime Minister, asking that they address the current housing crisis in Victoria through the implementation of a multi-pronged affordable housing strategy.
The campaign called for the State and Federal Governments to work together to implement an affordable housing strategy that includes:
• Growth in public and social housing stock
• Taxation changes to provide incentives to facilitate more affordable rental properties
• Reform of planning regulations for capital builds
• Significant increase to Commonwealth Rent Assistance payments
• Greater attention to innovation in design and construction.