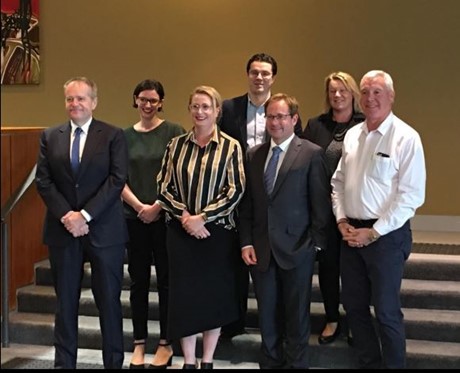 The Western Homelessness Roundtable in 2019, which brought together State and Federal Labor Members of Parliament, representatives of most of the Local Councils and representatives of the Western Homelessness Network has been a highpoint in that advocacy. 

The Roundtable was hosted by Katie Hall MP and Stephen McGhie MP. The tone of the Roundtable was incredibly positive, with a strong shared commitment amongst all participants to addressing homelessness in the West.

The speeches, in order, were made by: Katie Hall MP, Member for Footscray; Western Homelessness Network; Hon Bill Shorten, Federal Member for Maribyrnong; Ingrid Stitt, MLC Western Metropolitan; Alexander Trudzik, Housing Advisor to Minister Wynne; and Stephen McGhie, Member for Melton.

Other MPs present were: Daniel Mulino, Federal Member for Fraser; Tim Watts MP, Federal Member for Gellibrand; Sarah Connolly, Member for Tarneit. MP advisors attended for: Minister Wynne, Natalie Hutchins MP, Natalie Suleyman MP, Brendan O'Connor MP, Treasurer Tim Pallas MP and Josh Bull MP.

The Councils in attendance were: Hobsons Bay, Brimbank, Melton and Maribyrnong.

The following MPs sent apologies:  Kaushaliya Vaghela MP, Minister Ben Carroll, Minister Richard Wynne, Joanne Ryan MP and Treasurer Tim Pallas. 

State and Federal MPs have continued to meet with the Western Homelessness Network quarterly.  All Western State MPs advocated for growth in public housing in the West.