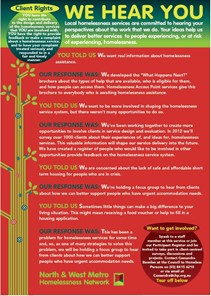 Each year, since 2012, the Northern and Western Homelessness Networks have conducted an annual survey people who have accessed homelessness assistance through the 180 homelessness programs operating in Melbourne's north and west, about their experiences of homelessness and the homelessness service system.

Over 1,500 people have taken part in the  consumer surveys. The Networks review the consumer feedback received each year, take steps to improve the service system and to advocate for structural change, in response to the feedback received.
Below is a summary of the feedback received between 2012 and 2020.  
You can access a summary of the consumer feedback process here and more reports from each of the annual surveys here.