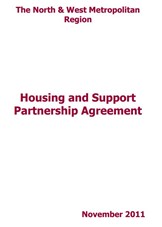 The Transitional Housing Management Program (THMP) is a Victorian Government funded response for people who are experiencing homelessness and who require a period of supported, stable housing whilst they seek long term housing and address any issues that may impact on the stability of future housing options.

The Housing and Support Partnership Agreement outlines the roles and responsibilities of tenancy administration staff and homelessness support staff, in supporting tenants in transitional housing.
Transitional housing provides people with an opportunity to: recover from or avoid experiences of homelessness, trauma or family violence address support related issues develop and implement a plan to achieve stable, long term housing learn how to exercise their rights and responsibilities under the Residential Tenancies Act (RTA), and succeed in sustaining a tenancy.
Transitional housing tenancies combine short to medium term accommodation, managed under the provisions of the RTA by a Transitional Housing Manager (THM), with case management support provided by an accredited support provider. Eligibility for, and access to, transitional housing is guided by the Homelessness Assistance Program Guidelines and Conditions of Funding 2014.
Principles for Access (outlined in both Section 1 and 2) and determined by the allocation arrangements outlined in the North and West Homelessness Network Practice Manual, Sections 7.6 and 12.3.
Transitional housing is a scarce resource and collaborative and effective work practice is essential for ensuring that is utilised efficiently and fairly, for both those tenants currently utilising the resource and for those many individuals and families who are in need of it.
The housing and case management support provided by support agencies is critical to tenants moving out of homelessness into stable housing. This Partnership Agreement outlines the responsibilities of the support provider, tenancy worker and tenant in managing a transitional housing tenancy.