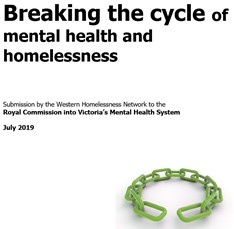 The cost of responding adequately to the needs of Victoria's most vulnerable citizens – those experiencing mental illness and homelessness – is nowhere near as great as the individual and community-wide costs of failing to act.
This submission, prepared by the Western Homelessness Network, addresses Question 2 of the formal submission process: What is already working well and what can be done better to prevent mental illness and to support people to get early treatment and support?
The Network has focussed on this question specifically because, as a Sector, we know that homelessness causes mental ill health but that individuals are rarely able to address or stabilise mental health issues in the absence of secure, affordable housing.
Addressing Victoria's housing crisis will reduce the numbers of people entering into homelessness and will enable women and children experiencing family violence to leave situations of violence early. This is, in turn, a preventative strategy, reducing the numbers of people experiencing mental ill health. Mental ill health leads to poverty for so many people. Fluctuating health creates challenges for people who are trying to manage study and/or stable employment; reducing the earning capacity of many people experiencing mental health issues in the absence of family support. Poverty reduces the capacity of tenants to manage housing costs and so can lead to homelessness, which causes mental ill health. Likewise, provision of affordable housing is central to stabilising mental health issues for those who are experiencing them. Practitioners from across the mental health and homelessness sectors have advised that it is extremely difficult for anyone to address mental ill health when there is no stability in their living arrangements and while a lack of housing continues to create stress and distress.
We present a number of recommendations, in addition to the key recommendation that the Government work with Federal and Local Governments to address Victoria's housing crisis, that we believe will increase our capacity to intervene earlier in responding to people experiencing mental ill health.