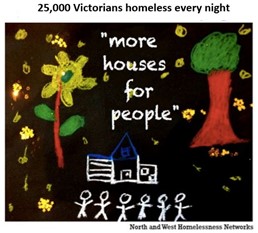 Melbourne is experiencing a housing crisis. Consequently, the number of people who do not have somewhere to live is increasing. Homelessness increased by 40% in Melbourne's west between 2011 and 2016.

We can end homelessness.  The attached paper, 'Ending homelessness in Melbourne's west' provides some strategies, identified by the Western Homelessness Network.  
The West has historically been one of the most affordable areas of Melbourne. This is no longer the case. Private rental vacancy rates are low in Melbourne (1.7% in April 2022) and rents are high. In March 2022 there were no private rental properties available in the West that were affordable for someone on Jobseeker.
There are 14,358 social housing properties in Melbourne's west however, there are approximately 10,000 on the waiting list for access to those properties.
Census 2016 identified that the numbers of people living in severe overcrowding in the West has increased by 79%. Severe overcrowding is defined by the ABS as people living in housing that is four or more bedrooms short (even allowing for gender). These people are likely to become the next wave of people presenting to the homelessness service system – a system that is already beyond overwhelmed.
In 2020/21, 16,487 people presented to homelessness services in the West for assistance. This was far in excess of the capacity of the homelessness service system to respond. Primarily these individuals and households need housing.  Some of them will also need a period of support.
The experience of homelessness is devastating for those individuals presenting and is extremely distressing for a workforce that is funded to respond to their need.

The pandemic has shown us that, when the political and community will exists, housing can be constructed.  The State Government is in the process of constructing 12,000 new properties. To meet current need construction of 6,000 properties a year for 10 years is required.