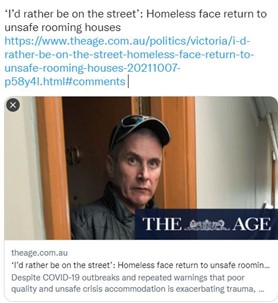 The Crisis Accommodation Options Project was funded by the Department of Families, Fairness and Housing to further explore the issue of emergency accommodation, highlighted in the Crisis in Crisis report, and to provide recommendations on a way forward.

The Project has provided the Sector with the opportunity to explore the use of the Housing Establishment Fund (HEF) within the context of the current housing market; the Sector's reliance on the private accommodation Sector; and the client experience of HEF in greater detail.
During the initial stages of the project, the COVID-19 pandemic rapidly and significantly changed the operating environment within the Homelessness Sector. This meant that, although the original focus of the project on emergency accommodation did not change, we were afforded a unique opportunity to test many of our assumptions about improving the emergency accommodation response.
The changed conditions during the pandemic included:
Purchase of better quality accommodation
Allocation of a substantially larger amount of funding
Provision of longer lengths of stay, offering greater stability for consumers • Use of the 'buying power' of HEF and negotiations with private providers
Re-allocation of support services to people in hotel accommodation
Improved linkages with allied services.
Overall, the Crisis Accommodation Options Project has reinforced the final conclusions of the Crisis in Crisis report:
it is unrealistic to expect a private, for profit Sector to appropriately respond to the needs of those in crisis and that the Sector's reliance on low end accommodation, which is rated as 'inappropriate and unsafe', is exacerbating the trauma experienced by consumers; and that


provision of emergency accommodation, particularly in the absence of sufficient support capacity, contributes to 'churn' amongst those experiencing homelessness and is not contributing the achievement of appropriate long-term housing outcomes.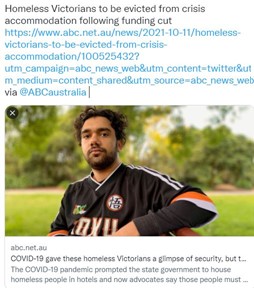 However, the response to the pandemic showed us that some changes to the current system have the potential to ameliorate some of the trauma experienced by people who are placed in emergency accommodation. One of the most significant examples of this was the establishment of the Hotel Emergency Response, which involved the placement of support, health and security staff onsite in high use hotels. This was identified by consumers, support workers and hoteliers as a significant improvement to the safety and responsiveness of this accommodation.